Action Factor, Inc. presents the workshop for teachers and parents…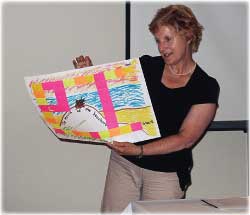 Games That Can Help You Teach Just About Anything
Presenter: Dr. Myrna R. Gifford
Workshop overview: People of any age love games. Now, there is a way to harness that enthusiasm to teach and reinforce important information in reading, spelling, math, social studies, and science. The teacher-and-student constructed games in this workshop are easy to assemble and can be designed to address a wide range of concepts, skills, and subject matter. Most of these games encourage self-competition so that students of differing abilities are not pitted against one another. This type of competition builds self-confidence and provides positive feedback about learning progress. Students get so involved in the games, they don't even realize they are learning!
Objectives of the presentation: Participants will learn:
to maximize learning by incorporating research-based features into learning games,
how to design and manage games for large groups, small groups, and individuals, and
how to provide developmentally appropriate games and activities for all students.
Participants will receive a packet of ready-to-use activities and information that can be adapted to individual needs and curricula.
Format of the presentation: This is a make-and-take workshop where participants can create one or more learning games to use in their classrooms or other settings. Multi-purpose game formats can be adapted to correlate with single-subject or multi-disciplinary topics.
Target age group: Pre-school through middle school
The target audience: Classroom teachers, special educators, administrators, pre-school teachers, tutors, parents, and others who wish to provide young learners with alternatives to traditional classroom instruction.
Brief summary of content: Leaning games provide an effective alternative to traditional paper/pencil tasks when seeking to help students master and retain a body of knowledge, refine basic skills, and develop cognition at the application, analysis, synthesis levels. The most effective learning games are easily learned and flexible in content, encouraging independence through self-monitoring and self-checking tools. Whole group games can be designed to reinforce curricular objectives while games for small groups and individuals can be more specifically tailored to meet individual needs. The games in this workshop are simple to construct, easy to learn, and inexpensive. Adding a stopwatch encourages self-competition as students improve speed, accuracy, and fluency. Matching games can reinforce such skills as vocabulary, math facts, and spelling patterns. Scrambles can be used to reinforce math operations, retelling, and sequencing. Board games can provide needed practice in science, social studies, and language arts. We can teach students to help construct their own learning games, providing them with a sense of ownership, an incentive to work cooperatively with their peers, and an authentic application for reading, writing, and problem-solving.
To request a customized workshop at your location, please use our online form.