Workshops for Teachers
Select a workshop title below to view its description:
Action Factor teacher professional development workshops have been presented for local, state, and national organizations including...
International Reading Association
New Zealand Reading Association
Sanguine Consulting, Singapore
Sanguine Consulting, Australia
National Council of Teachers of English
Americorps
Alabama Reading Association
Arkansas Reading Association
California Reading Association
Florida Reading Association
Georgia Reading Association
Illinois Reading Association
Indiana State Reading Association
Greenfield-Central Community Schools, Indiana
Kentucky Reading Association»
Michigan Reading Association
Missouri Reading Association
Missouri Association for of Colleges for Teachers Education
University of Missouri, St. Louis
St. Louis Public Schools, Missouri
Herbert Hoover Boys and Girls Clubs, St. Louis, Missouri
North Carolina Reading Association
Pine Lake Preparatory School, Davidson, North Carolina
Wright State University, Ohio
Ohio Council of Teachers of English
Ohio Reads Conference
Ohio Literacy Institute
Ohio Early Childhood Conference
Ohio Council of the International Reading Association
Ohio Association for the Education of Young Children
Ohio Department of Education Office of Early Childhood Education
Ohio Department of Education Special Education Regional Resource Centers
Ohio Special Education Regional Resource Center
Clark County Educational service Center, Ohio
Montgomery County Ohio Educational Service Centers
Preble County, Ohio Public Schools
Coldwater, Ohio Public Schools
Kettering City School District, Ohio
Centerville, Ohio Public Schools
Family Life/Even Start Center, Dayton, Ohio
Horizon Science Academy, Dayton, Ohio
Keystone (Pennsylvania) State Reading Association
People for People Charter School, Philadelphia, Pennsylvania
Virginia State Reading Association
West Virginia Reading Association
West Virginia Association for Young Children
21st Century Learning Centers
---
Rap, Clap, and Sing—Phonics Activities with Zing!
Tired of "same-old, same-old" phonics drill? Spice up your literacy program with motivational songs, games, raps, and movement, and just watch what happens to enthusiasm and memory! This workshop familiarizes participants with Sing Your Way Through Phonics, a series of musical learning experiences for primary grade students, as well as a wide variety of lively activities that take the tedium out of phonics practice. Reinforcing phonics skills through music and movement has proven to be an especially effective strategy for at-risk students who may experience difficulties with traditional methods of instruction.
More…
Listen Up! Adventures in Auditory Learning
is an interactive workshop designed to provide early childhood educators with a toolbox of easy-to-implement activities that help students build the listening and communication skills so essential to literacy. Participants will learn how to translate the latest research on oral and written language development into daily routines through music, play, and students' natural interests. Each motivational workshop activity is linked to state preschool and early childhood literacy standards.
More…
How Children Learn to Read...and What You Can Do to Help.
This workshop highlights the stages of reading and writing development and explains how each stage of development is affected by experiential, personality, social, environmental, and cultural influences. Helpful hints are included for building literacy foundations, assisting students in each stage of development, creating literacy-rich environments, and teaching balanced literacy lessons. The information is particularly helpful for parents, grandparents, tutors, and teachers who want to know what they can do to help their students succeed in school.
More…
Reading Comprehension—Do We Really Teach It?
There are many types and levels of reading comprehension. This workshop familiarizes educators with practices that help students develop practical comprehension strategies as they read for different purposes. In addition, educators will be guided in helping students self-monitor their own comprehension through meta-comprehension tools and meta-comprehension questions. Participants will engage in reading and responding to a wide variety of literature to promote comprehension at each level of Bloom's Taxonomy of Cognition. The link between reading and writing will be explored in pre-reading, during reading, and post-reading activities.
More…
Sound Off! Building Phonemic Awareness Through Rhythm and Rhyme.
Phonemic awareness and phonological awareness are important components of students' preparation for reading and writing. This workshop familiarizes early childhood educators with practices that help students develop sensitivities to the sounds and symbols of their language. Through play, singing, chanting, and moving, young students can be helped to build foundations for literacy and learning. These early literacy activities promote a fascination with language because they are aligned with students' natural inclinations, abilities, and interests. Workshop participants will construct ready-to-use learning aids that can be expanded and modified to suit the individual needs of their preschoolers.
More…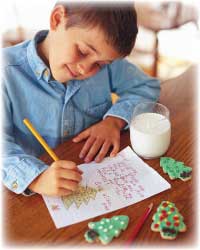 Write Away! Writing Process and Writing Workshop Management.
How do I ... get my students excited about the whole process of writing? ...encourage my students to write creatively? ...design interesting writing assignments that address all forms of writing? ...assess my students' writing? These questions and more are addressed in our Write Away! workshop. Participants in half-day or full-day workshops will get a bird's-eye view of the student perspective as they engage in the writing process, respond to their own writing prompts, and conduct effective writing conferences.
More…
Learning Centers That Run Themselves.
To reach all students, we know that we must provide learning options that address individual learning styles, motivation, and interests. Self-running activity centers fulfill this need by giving students a chance to learn through auditory, visual, and tactile/kinesthetic modalities. Projects and activities at centers allow students to work individually, in pairs, or in small groups. Well-designed centers can encourage students to participate in creative activities that break away from the paper/pencil tasks so common to traditional assignments. As students learn to manage and self-monitor the quality of their work, they begin to take responsibility for their own learning, forming work habits that will serve them for the rest of their lives.
More….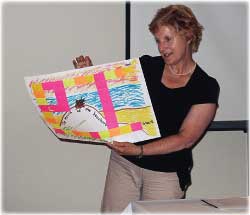 Games That Can Help You Teach Just About Anything.
People of any age love games. Now, there is a way to harness that enthusiasm to teach and reinforce important information in reading, spelling, math, social studies, and science. The teacher-and-student constructed games in this workshop are easy to assemble and can be designed to address a wide range of concepts, skills, and subject matter. Most of these games encourage self-competition so that students of differing abilities are not pitted against one another. This type of competition builds self-confidence and provides positive feedback about learning progress. Students get so involved in the games, they don't even realize they are learning!
More…
Practical Strategies for At-Risk Students.
Learners with special needs and those who have experienced failure in traditional classrooms often thrive when learning tasks are presented in new and motivating contexts. This workshop focuses on five goals that can turn school failure around by helping students to 1) develop skills and knowledge necessary for success, 2) develop intrinsic motivation, 3) become problem solvers, 4) become lifelong learners, and 5) achieve their personal potential. Workshop activities are designed around ten principles for attaining these educational goals. Participants receive a packet of learning tools that are readily adaptable to a wide range of ability levels. Packets also include information about locating additional resources to meet special learning needs.
More...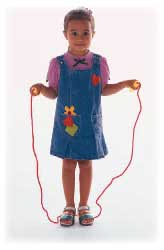 Music and Movement for Young Learners
.Let's get physical! Learn how to help young children use movement and creativity to relate to every aspect of music and other content areas. From melody and rhythm to dynamics and form, children can deepen and broaden their understanding of all kinds of music when they use their bodies and minds together. As children become musically literate, they respond actively by listening, reading, writing, creating, and arranging music. And once children have tuned in, teachers can capitalize on the motivating power of music to help children learn basic skills and concepts.
More...